Our Story
Walk Now Productions is an independent theatre co-op and film group whose focus is on creating new Australian work which embraces diversity and multiculturalism whilst reflecting a wide range of contemporary social issues.
From our humble beginnings, we have aspired to create a community environment, where each artist brings the whole of themselves to the creative process. Our approach is at times unconventional, but always based on a supportive and collaborative process, incorporating mutual respect and fairness towards everyone – our cast, crew and advisors.
"My Carer" was our first independent piece of theatre and was performed in January 2018. The play focuses on mental health and the wisdom of a young woman from a different culture who heals a strained and fractured mother-son relationship. It was performed in English and Korean. It was reprised due to popular demand in July 2018 with the entire cast and crew returning from season one.
In January 2020, we presented a new work entitled "Shades of Light" which had a sell-out season. This play is about human connection and how differences in culture and language become unimportant in an inhospitable environment. It was performed in Farsi, Vietnamese, Italian and Armenian as well as English.
During COVID, we have been unable to mount any theatre productions, however, as a group, we have been providing volunteer support, with food and hand sanitiser drop-offs, to those in need in our local community.
In early 2021, in COVID safe conditions, we were able to shoot a new short film called "Capt S. and Nightcat". The film is a collaborative and personal piece of work, partly devised with the actors, which highlights the issues of bullying and enslavement, and hopes to give voice to those who cannot speak out. The film stars Hanh Nguyen (last seen in "Shades of Light") and a new member of our team, Erica Long.
Upcoming projects include mounting a second season of "Shades of Light" and a new play called "The Missing Bird".
We are proud members of the MEAA, the Arts Wellbeing Collective and an associate member of Theatre Network NSW.
"The whole world is in this theatre group," Debra Oswald, playwright, novelist and television writer.
Sponsors
Platinum – Daracon Group and Arenco. The Italian Bilingual School (IBS).
Gold – Nastasi & Associates, Co.As.It, Anderson Lawyers, Judith Gonzalez Bravo & Neftali Flores Rodriguez, Actevate, Dr Francesco Giacobbe (OAM), Orfeus SQ, F.G. Fintax Pty Ltd, Locantro Fine Foods, Allan Dale Real Estate – Mr Chris Vallas, Paesanella Haberfield, Antonello & Heather Palmisani, Elio & Frances Cordaro
Silver – Robert & Iris Nastasi, Rebecca & Gaetano Follari, Joe Napoliello/Bar Sport, Mental Health Carers NSW, Leichhardt Saints Football Club Ltd, Eileen Leather & Phil Wallis, Claudia Ganora, Little Sicily Restaurant
Acknowledgement of Country
Walk Now Productions acknowledges the Gadigal people of the Eora nation who are the traditional custodians of the land on which our company was founded. We pay our respects to Elders past and present, and we extend that respect to all Aboriginal and Torres Strait Islander people with whom we work and with whom we share stories. Always was, always will be.
Theatre
Film
"Capt. S & Nightcat", a short film by Sam Cosentino © 2021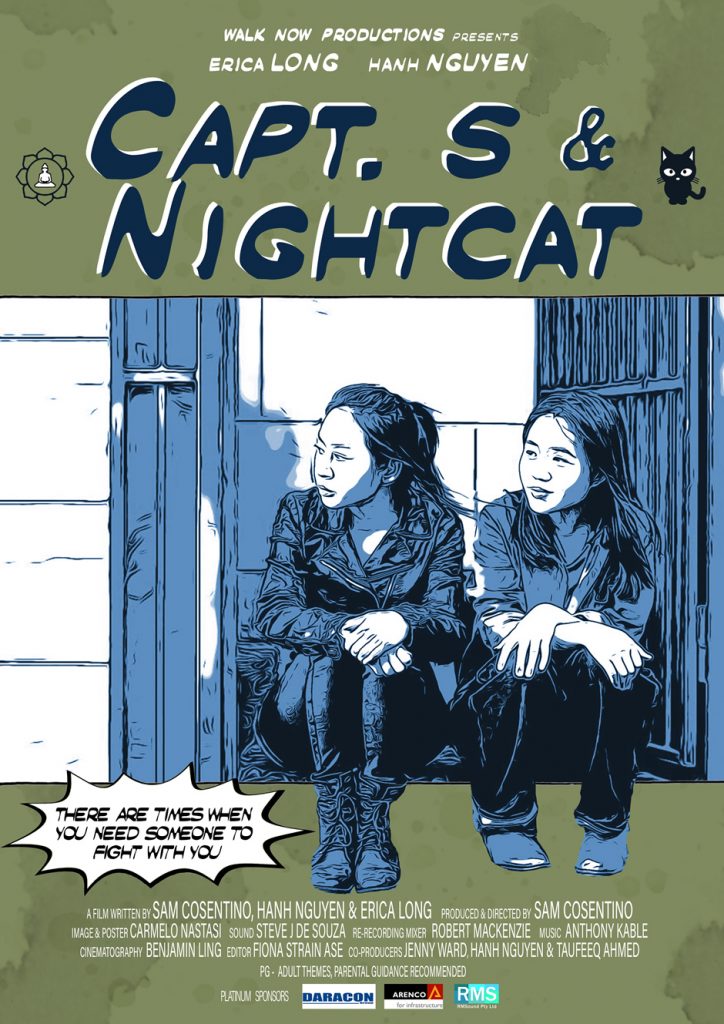 "Shades of Light", in the dressing room before the show (Walk Now Productions © 2020)
"My Carer", excerpts from the play (Walk Now Productions © 2018)
"Turn Around and Look", a short film by Sam Cosentino © 2008
"The Celluloid Domain", a documentary by Paul Matereke © 2017
Reviews & media
Sydney Arts Guide, Shades of Light review
Suganthi Singarayar, Blogger, Shades of Light review
Persian Morning Tea, Facebook, Shades of Light review
Suganthi Singarayar, Blogger, My Carer review
Suzy Goes See, My Carer review
Dedications
Walk Now Productions pays tribute to a few mentors of the past, for their inspiration and leadership in their respective fields.
The late Professor Peter Van Asperen, Head of Respiratory Medicine for more than 25 years at Westmead Children's Hospital, NSW.
The late Robert Herbert, Film Curator for more than 18 years at the Art Gallery of NSW.
The late Mr Nino Cosentino, mentor, philosopher and friend to many in the Inner-West community of Sydney.